By now, most people have had some sort of training in regard to sexual harassment prevention in the workplace, but what about sexual harassment prevention where they live? Property owners, managers, maintenance workers, other residents and even the community's suppliers and contractors can be perpetrators, so where should a resident turn when this occurs?
L&B's Managing Principal Chris Loebsack sat down (virtually of course!) with our Manager of Digital Marketing Liz Newkirk to discuss issues surrounding sexual harassment in housing and some basic guidelines, check out their video here.
If you believe that you have experienced sexual harassment or other forms of harassment based on race, color, national origin, religion, sex, disability or family status, call HUD at (800) 669-9777 or (800) 877-8339 (TTY) to
file a complaint
.
______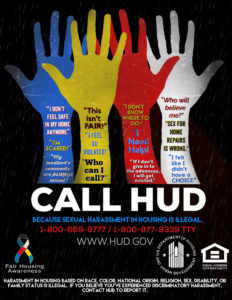 The US Department of Urban Development (HUD) observes Fair Housing Month each April, and the April 2020 theme is Call HUD: Because Sexual Harassment in Housing is Illegal. This theme serves a dual purpose; as a public awareness campaign urging residents who experience sexual harassment where they live to contact HUD for assistance and also, reflecting the Department's continuing efforts to combat this and other forms of discrimination.
"While any form of discrimination stains the very fabric of our nation, HUD is especially focused on protecting the right of individuals to feel safe and secure in their homes, free from sexual harassment or unwanted sexual advances," said HUD Secretary Ben Carson. "This theme, which is a call to action, is an appeal to those who experience discrimination, particularly survivors of sexual harassment, to contact HUD for help. Much work remains to be done, but HUD's efforts in this area are already producing real results for real people."
What is sexual harassment in housing?
Sexual harassment in housing includes demands for sex or sexual acts in order to buy, rent, or continue to rent a home. It also includes other unwelcome sexual conduct that makes it hard to keep living in or feel comfortable in one's home.
How does Sexual Harassment apply to Fair Housing?
The Fair Housing Act prohibits discrimination in housing on the basis of race, color, religion, sex, familial status, national origin, and disability. Sexual harassment is a form of sex discrimination prohibited under this law.
How you can raise awareness regarding sexual harassment:
Subscribe to the Loebsack & Brownlee blog!
Get notified every time we publish a new blog post.