Here is a behind the scenes look with recently promoted Partner Shanae Auguste.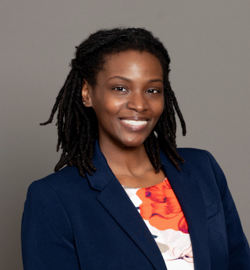 What time do you get up in the morning?
It varies depending on where (or whether) I have court that morning. However, on the mornings I don't have court, I typically get up around 7:00 a.m.
What do you do before you come into work?
My mornings are pretty low-key. I have a cat, so I make sure he's taken care of for the day (food, water, toys, etc.). Sometimes I hit the gym, sometimes I wait until after work. I also try to check my work emails before getting in.  
What does a typical day look like for you?
No day is really a typical day as a member of the Eviction Team! One day, I may have court in Wilmington, the next day I might be teaching a legal seminar in Greensboro, and the day after that, I might be working from the Charlotte office. You just never know! When it's a little slow in the office, I'm usually reviewing eviction cases, doing legal research, or negotiating cases with tenants' attorneys. Even with my busy workdays, I always try to make sure I'm taking time to respond to client emails and phone calls.
What is your advice on taking risks?
I love taking risks. Sometimes, very little good comes from playing it safe. I think as long as you've weighed the pros and cons and have at least one solid backup plan, go for it! 
What is your leadership style?
I'd say I'm a direct, participative type of leader. I tend not to beat around the bush regarding work-related items, as I believe clear communication is key to building a solid team. I'm participative in that I actively solicit (and encourage!) input from my colleagues before taking action.  
What is the best advice anyone has ever given to you?
I have three that I can't choose between. 1st: Work smarter, not harder. I probably say this aloud at least twice a week. I only have a finite amount of time in a day to get things done and I'm already super busy, so I have to be smart about how I navigate my day. 2nd: To be early is to be on time; to be time is to be late; to be late is unacceptable. I learned this when I was in JROTC back in high school, and it's still something I live by today. I think showing up on time is an ultimate sign of respect, and I always build time into my travel to arrive EVERYWHERE early. 3rd: You can't expect yourself out of others. My mom actually told me this a few months ago. I was upset at a friend for flaking on me, and this was Mom's response. I sat with that message all day because it couldn't have been more true.
What is the hardest thing about being a woman of color in an executive position?
The hardest thing about being a woman of color in an executive position is beating the odds. I'm black and a woman, so there were already those two hurdles at play. Being in this position, I've had to work twice as hard just for a seat at the table. However, let the record reflect that I've more than earned my spot! There's also a degree of situational hyperfocus that comes with being a black woman in a position of power. Having to worry about your grammar/speech, and your hair, and your mannerisms, etc. Fortunately, working for Loebsack & Brownlee has absolutely allowed me to be myself. 

You're a member of Zeta Phi Beta Sorority Inc, who has recently celebrated 100 years. What has being a member of this organization meant to you?
I became a member of Zeta Phi Beta Sorority, Inc. back in November 2007 during my junior year of college. Over the past 12 years, being a Zeta has been such a blessing. I've met so many strong, passionate, and confident women who I'm proud to call my sisters. This illustrious organization has instilled in me amazing values that I will hold dear forever. Here's to 100 more years of "scholarship, service, sisterly love, and Finer Womanhood!"
Work/Life Balance
I try to maintain a pretty strict work/life balance, especially with being a Partner. I have a cutoff time for email responses and returning phone calls (unless you're my boss lol). If I get a work email at 7 pm, it's getting answered the next day! Having a good work/life balance is paramount to my mental health, and it allows me to recharge for the next day. Of course, I inevitably wind up doing work at home sometimes. When I'm not working though, I enjoy woodworking (a lot), gardening, traveling, reading, and hanging out with my cat.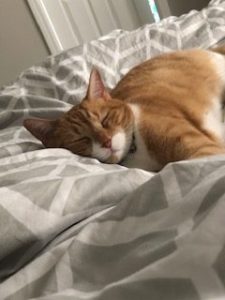 Subscribe to the Loebsack & Brownlee blog!
Get notified every time we publish a new blog post.