LGBTQ+ and Discrimination in Housing
What is Fair Housing?
The Fair Housing Act protects people from discrimination when they are renting or buying a home, getting a mortgage, seeking housing assistance, or engaging in other housing-related activities. Additional protections apply to federally-assisted housing.
The Fair Housing Act prohibits discrimination in housing because of:
Race
Color
National Origin
Religion
Sex
Familial Status
Disability
Source: HUD.Gov
History of LBGTQ+ discrimination in housing.
LGBTQ+ persons face social stigma, discrimination, and rejection from their families because of their sexual identity. According to a study done by the Williams Institute, "Nationally, on average, approximately 3 complaints of sexual orientation and gender identity discrimination in housing are filed for every 100,000 LGBT adults each year, compared to approximately 5 complaints of race discrimination filed for every 100,000 adults of color, and 1 complaint of sex discrimination filed for every 100,000 women."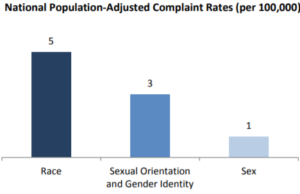 Managing Principal Chris Loebsack and Manager of Digital Media Liz Newkirk address these issues and more in our Q&A session regarding LGBTQ+ and Fair Housing.
Resources:
Subscribe to the Loebsack & Brownlee blog!
Get notified every time we publish a new blog post.