2020 has been nothing less than a year – a very challenging year. Despite the challenges we've witnessed so far, leaders have emerged, tough issues discussed, and we have watched people unite despite it all.
Brittany Yedlosky has moved with this same spirit, facing adversity and emerging with a renewed sense of self and purpose. This is a Day in the Life of Brittany, and this is her story. 
A Day in the Life of Brittany Yedlosky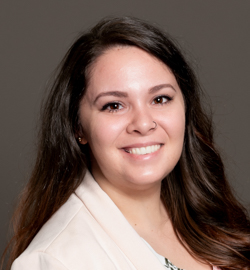 How did you come into this role?
I started on-site roughly ten years ago, but I always wanted to be on the supplier side. I moved up and down the "on-site ladder," doing almost everything from leasing, marketing, managing a major renovation while dabbling in maintenance, managing multiple communities, then took a little break from the industry. It didn't take long before I was sucked back in (lol). I'd worked with Rachel on a couple of freelance projects when she was with PTAA, and one day, out of the blue, she called me and told me about a position with L&B that was available that she thought I'd be a perfect fit for. My first thought was, "I am TOTALLY not qualified to work for this amazing company!" I talked about it with my manager at the time, and my mom (of course) and I called her back and said something along the lines of "Tell me what I need to do next." I started out working part-time-ish, working on various projects as we, as a Marketing Team, learned my strengths. As time went on, my role within the team changed and advanced to full time.  
What do you do exactly, and what does your role entail?
My title is Events & Brand Manager, but my role within the team and the firm varies. I work both behind the scenes and with the public. I help plan our events with Apartment Associations and clients as well as help with the firm's branding (as we call it, swag).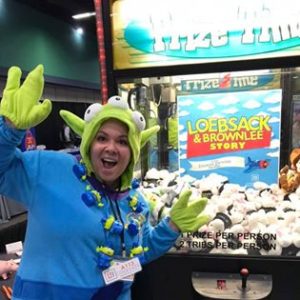 What does a typical day look like for you?
What is a typical day, is that a thing? This is actually what I love most about my role at L&B, I do not have a typical day. I may spend my day planning events, ordering swag, researching new swag, organizing our plethora of swag, communicating with clients, communicating with apartment associations, working on projects with the attorneys or processors, attending events, traveling, you never really know where you'll find me or who I'll be bothering for the day.  
You recently had a major health scare, tell us about that.
Late last year and earlier this year, I was very sick and was misdiagnosed multiple times. I continued to work and travel, being a single mom, I've somewhat conditioned myself to work through illness and keep on keeping on… As long as I'm not contagious, I'm good to go. I took a couple of days off work, and the day before I planned to come back into the office (Sunday, February 2nd), I suffered a grand mal seizure in the middle of the night and was rushed to the ER.
While in the hospital, I was diagnosed with Viral Meningitis, which, since misdiagnosed for so long, actually turned into sepsis in the lining of my brain. I was put into a medical coma and intubated for a few days. My brain function was almost nonexistent while I was intubated because of the seizure and severity of the infection, so when I came out of the coma, I was told that I would have to learn how to do pretty much everything again, from eating, walking, writing, driving. I was also told that it would be a minimum of 6 months before I could come back to work. If you know me at all, you know that I was not going to take that as an answer. I love my job, I was not going to wait that long to come back.
While in the hospital, I participated in as much rehabilitation as possible. I was convinced I was going to walk MYSELF out of there. Two days after waking up from being intubated, I'd progressed (and impressed my neurologist) enough to be able to do the rest of my rehabilitation from home. Honestly, I just wanted to go home and take a shower. Once I was home, my family stayed by my side and guided me through my rehabilitation. I did relearn everything… eating was easy because I love that, but learning to write again was the hardest. My brain just could not understand that I didn't need to write two of every other letter.
My first day back in the office was Monday, February 24th, 18 days after I was told that I would have to do rehabilitation for six months before I'd be ready to go back to work… told you I love my job. Though I wouldn't be able to drive for a couple more months, I still came into the office as much as a could with my parents bringing me in. A week after I was back in the office full time, COVID-19 happened. Since then, I've been working full time at home, getting used to our new normal. 
How has this affected you personally and professionally?
My illness has affected my life personally and professionally in more ways than I can explain. I live my life completely differently now. I pay attention to my body, and I don't take a single day for granted. I spend so much less time worrying about the little things. Before my illness, I planned every day down to the minute, and if it didn't go exactly how I planned, I was a wreck. I always had a schedule; I couldn't even go on vacation without having each day planned out. Now, I just go with the flow.
Professionally I have grown exponentially. I am more organized in the sense that if something doesn't go the way it's supposed to, I am calmer and able to work through it. I don't get stressed out, I just smile and move on. I know that even though something isn't perfect, it could be so much worse. I put a lot of faith in our team. When I was sick, the entire team at L&B rallied around me and helped me pull through. Knowing I had my team behind me, cheering me on made it that much easier to pull through and get back into the swing of L&B life.  
What helped you overcome your struggles?
This is a tough one. I can say that my family and our team helped me overcome my struggles. Knowing that I HAD to get better, so my son still had his mom, knowing that my family took time off to be there for me, and knowing that my team had my back and took over my responsibilities made me want to overcome every obstacle that came my way. I can honestly say that if I didn't work with such amazing people, I probably wouldn't have pushed as hard to get better and get back into the swing of things. I still struggle daily with my memory. I don't have any memory from around December 2019 – February 2020. I am so grateful for the patience everyone has had with me. No one has given me a hard time about it, not once, or even brought up the fact that I had memory loss. Everyone was so understanding and helpful from day one and even still now. This team has truly become family to me.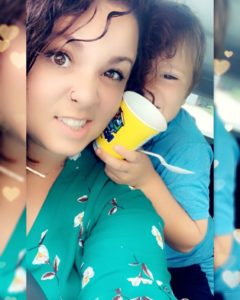 Where do you see yourself going next?
Taking over the world! No, just kidding, kind of. I see myself continuously growing in my role with L&B. I am still getting into the swing of things before my illness. Every day is a little easier than the day before. I know that there is always room for improvement, and I know that within the team here, I have the support to grow and reach my highest potential. 
Learn more about the team at L&B.
Subscribe to the Loebsack & Brownlee blog!
Get notified every time we publish a new blog post.