We understand that not everybody has access to Microsoft Excel, so we have an easy and free workaround for you.
If you receive an Excel spreadsheet from our team, you can open it in Google Sheets to make any edits.  When you're done editing and you're ready to send the sheet back to us, you can use one of these two methods.
Option 1: Click File > Download > Microsoft Excel and then send it to us as an attachment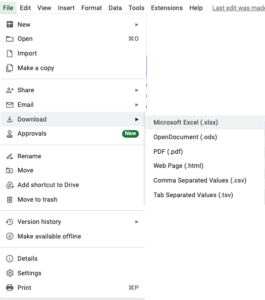 Option 2: Click File > Email > Email This File and then key in our email address.  If you choose option 2, be sure to change the file type from PDF to Microsoft Excel like in the video below.
NOTE: If you "share" the file, we will not be able to click to access it as we do not click hyperlinks to access files outside of our system. The file must be sent as an attachment so that our virus filters may scan the file.
Subscribe to the Loebsack & Brownlee blog!
Get notified every time we publish a new blog post.